..........heeft 1 van onze Petrosaurusvrouwtjes haar 1e eitjes gelegd :o
Toen ik 16 mei de halsbandleguanen aan het verzorgen was viel mij het buitensporige en opdringerige gedrag van een Petrosaurusmannetje op, een paring volgde al snel en duurde zeker 3 tot 4 minuten, daar ik mijn fototoestel bijna altijd binnen handbereik heb, had ik maar even snel een paar foto's gemaakt.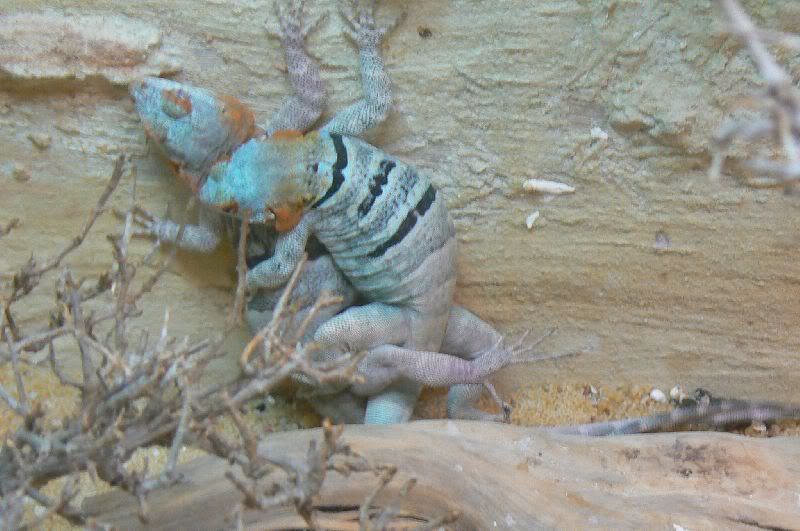 Nu brak er een spannende tijd aan, zou ze zwanger zijn of niet, de vrouwtjes hadden op dat moment een opvallende oranje/rode kop en nek.
Na een week of 2 verdwenen de oranje vlekken en werd het vrouwtje zichtbaar dikker.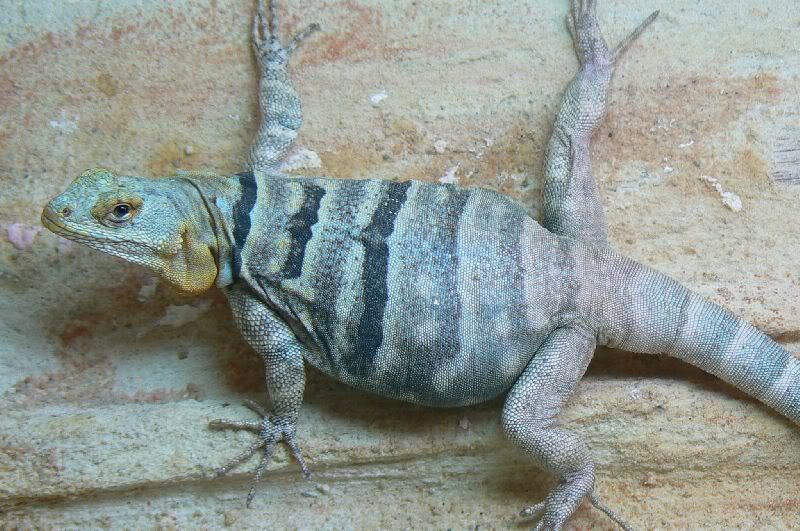 Toen het vrouwtje ruim 1 week geleden overal begon te graven en regelmatig de eilegbak in en uit kwam begon de spannende tijd pas echt, elke ochtend en avond kijken en alle keren er tussen door
en nog steeds niets.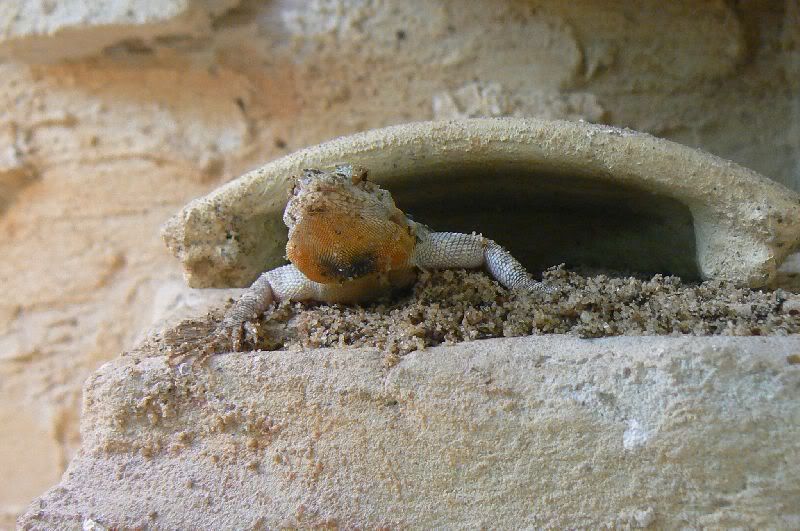 Gisterenmiddag lag de dikke dame zich nog steeds regelmatig op te warmen onder de lamp, waar na ze weer de eilegbak
in verdween en er tot vanmiddag niet meer uitkwam.
Vanmiddag om 3 uur lag de dame zich weer op te warmen onder de lamp, maar nu vet onder het zand en knap vermagerd.
Ik heb toen voorzichtig de eilegbak uit het terrarium gehaald en op onderzoek uit gegaan en ja hoor, al snel ontdekte ik het 1e eitje.
Na even verder graven zag ik er nog meer liggen.
Zie hier het resultaat dat ik in de vermiculiet gelegd heb, 10 bevruchte eitjes was het resultaat.
Op het 1e gezicht zien de eitjes er goed uit.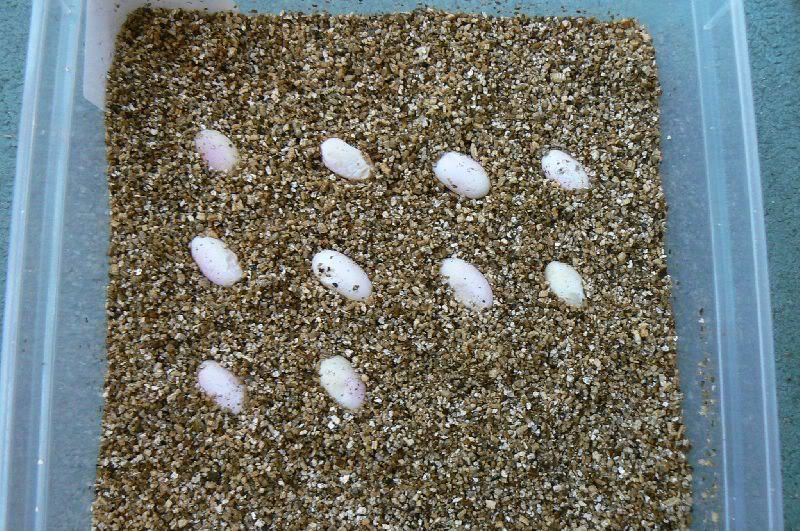 Op de ze foto is de roze kiemschijf duidelijk te zien.
De eieren hebben ongeveer dezelfde grootte als de halsbandleguaan eieren.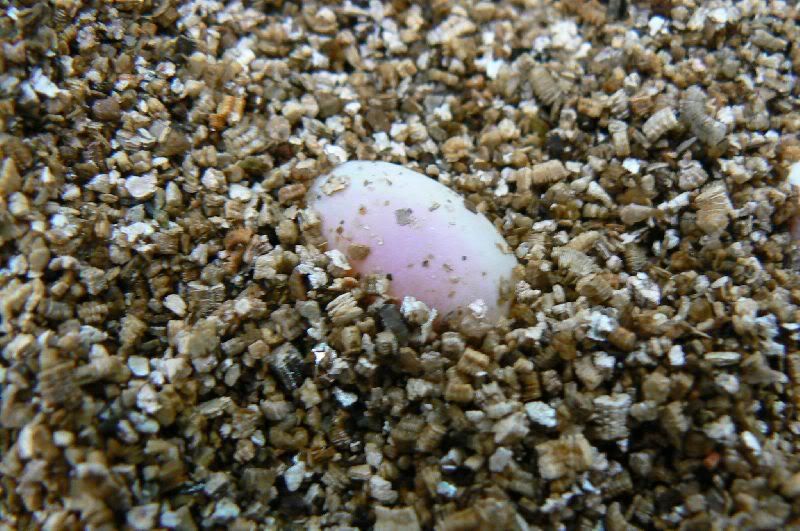 Ik kan jullie verzekeren dat mijn geluk niet meer kapot kan vandaag
Hier nog een foto van de aanstaande trotse vader in zijn nieuwe terrarium.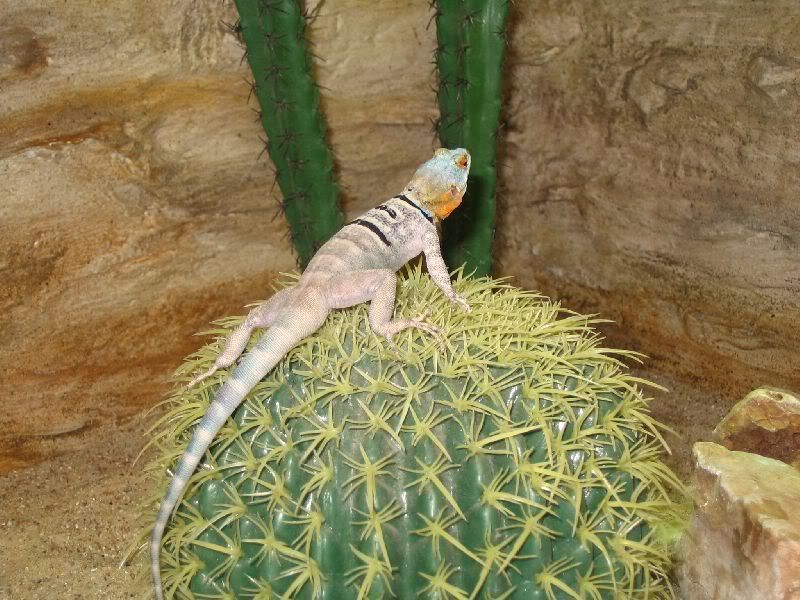 Groetjes, Hans en Ted
Groetjes, Hans en Ted